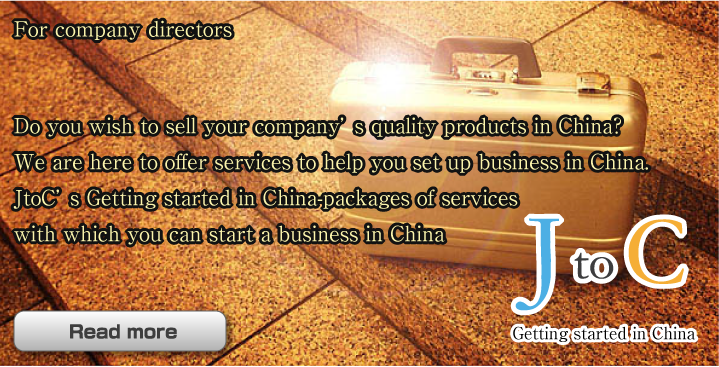 We provide JtoC's package of Getting started in China.
Doing business in China is a jumble of wheat and tares, so JtoC will guide you through.

Yuji Tsuruno

Born in Chiba, 1973. Managing director of Sincere International/ Certified Management Consultant/ Japanese Immigration Lawyer.

Waseda Business Graduate. Studied in Zhengzhou, China during his student days at Waseda. Joined Sumitomo corporation in 1997, working across steel trading exclusively with China for most of his career, including five years in Shanghai office as an officer for a local business investment company. Running own business since 2008. Consulting on trading and investments abroad with over 200 clients per year as a coordinator at the Tokyo Chamber of Commerce and Industry and as a Chinese business exert at various public institutions.

Seminars and articles

"Not too late to enter China for manufacturers", Kanagawa-ken Kougyou Kyoukai, 2010.

"A guide for successful business in China", The Okinawa Development finance corporation, 2010.

"How Not to fail at doing business in China; basic knowledge" etc, the Tokyo Chamber of Commerce and Industry, 2011.

"A handbook for doing business abroad", the Tokyo Chamber of Commerce and Industry, September 2011.

We assist you to build valuable websites which lead to your business.

Mitsutoshi Matsuda

Born in Ishikawa, 1975. Certified Management Consultant.

Obtained a master's degree in Nagaoka University of Technology. Joined NTT Corporation and engaged in research and development of communication technologies. Worked as a lecturer in a university and as an IT consultant. With a great store of knowledge in IT, consulting with clients, by utilizing IT skills, creating websites and building web systems.

Seminars and Articles

"Internet shop seminar", Oyabe-shoukoukai.

"A seminar of an accounting software", National Tax College.

"Not being able to ask for help! Understand to one's heart's content! Website consultation".

Please do let me know whenever you are in need of website promotion in Chinese market, especially in Shanghai.

Hikaru Takeuchi

Born in Hyogo, 1977.

Chief Executive Officer of WELLSTAR CREATION INC.

Obtained a bachelor's degree in literature, aesthetics, from Doshisya university in 2000 and a master's Degree in Arts from Kyoto City University of Arts.

During his student days at Kyoto City University of Arts, He travelled to Shanghai for the first time in 2004. He inspired by China's economic growth and interested in Chinese business.

Founded WELLSTAR CREATION in Shanghai in 2008, after working in a web development company and an advertising company located also in Shanghai.

Dealing with web designs for the Chinese market on behalf of tens of Japanese firms.

Seminars and Articles

"A tip to help Japanese companies to create attractive websites", Diamond online, 2011.

"A challenge for Chinese dream", Jiji press, Shanghai 2011.